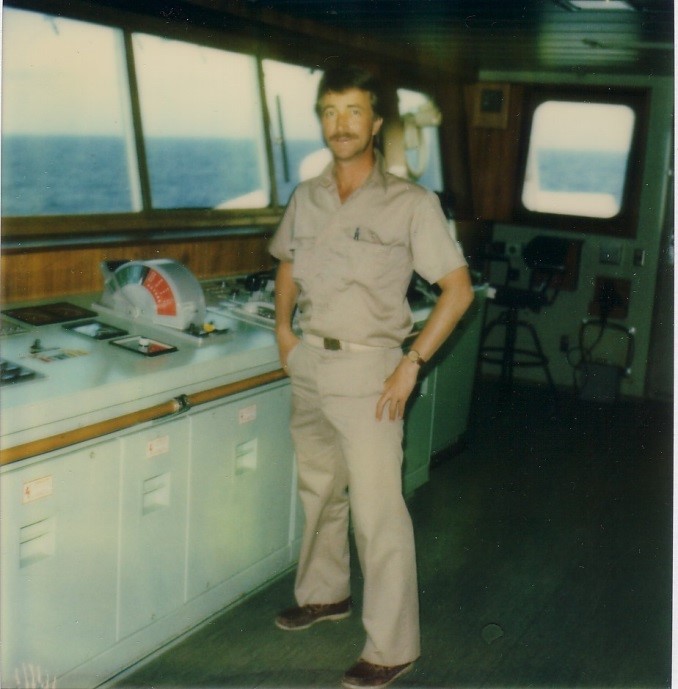 Kevin Zahn was born in a small, Connecticut town. He had a rather Norman Rockwell type childhood there, having a paper route, playing baseball, flying kites, and attending many large family gatherings. He had four brothers and no sisters. He learned to play the drums. His Dad had survived WWII as a bombardier in a B-24, although he seldom spoke of it. His Mom stayed home, as most moms did in those times. Kevin liked school and did well.
When he was eleven all that changed. Seeking a business opportunity, and being tired of the winters, his Dad moved the family to Jacksonville, Florida.  At first, when some of the other sixth grade boys in his segregated school called him "Yankee" he would answer that he was a Brooklyn Dodgers fan. It was a vastly different culture, and they had no relatives nearby. They lived in a modest suburb across the St. Johns River from downtown. Young Kevin saw many large, ocean-going ships steam up river, dock, and unload cargo. He wondered about them a lot.
In January of his senior year of high school, Kevin got a nomination, then an admission, to the United States Merchant Marine Academy. He took it, graduated four years later, and became an officer in the American Merchant Marine (and U.S. Navy Reserve). He made at least one voyage every year for the next twenty years. His work, The Bucko Mate: Twenty Years in the Merchant Marine, is based on these experiences.
In between voyages, he managed to get a Master's degree from Boston College. Kevin taught public junior high school in a small town outside of Boston, and later in a private school outside Baltimore. For many years, he taught during the school year and shipped out of a union hall in the summer. The years in Baltimore, with his baseball coaching, gave him the background for One Fine Summer.
Zahn ended up in Arizona, remarried (gaining two more children in the process). He gave up sailing to establish a better family life. He worked for a county government, eventually as a GIS Analyst (Geographic Information Systems) in their Public Works Department.
After retirement, Zahn and his wife moved to the beautiful red rock country of Sedona, Arizona, with Sassie the dog and Syrus the cat. He worked part time as an aide in a special education department in a local elementary school. In between editing his book-length works, Kevin plays tennis and enjoys hiking the many trails in the area. Two grandchildren also live in the high country of Arizona.
–KZ